Regulation of Anthocyanin Biosynthesis in Purple Leaves of Zijuan Tea (Camellia sinensis var. kitamura)
1
College of Life Sciences, Fujian Agriculture and Forestry University, Fuzhou 350002, China
2
College of Life Sciences, Ningxia University, Yinchuan 750021, China
3
College of Forestry, Fujian Agriculture and Forestry University, Fuzhou 350002, China
4
Anxi College of Tea Sciences, Fujian Agriculture and Forestry University, Fuzhou 350002, China
†
These authors contributed equally to this work.
*
Authors to whom correspondence should be addressed.
Academic Editors: Yikun He, Xuchu Wang and Shaojun Dai
Received: 12 February 2017 / Revised: 5 April 2017 / Accepted: 10 April 2017 / Published: 19 April 2017
Abstract
Plant anthocyanin biosynthesis is well understood, but the regulatory mechanism in purple foliage tea remains unclear. Using isobaric tag for relative and absolute quantification (iTRAQ), 815 differential proteins were identified in the leaves of Zijuan tea, among which 20 were associated with the regulation of anthocyanin metabolism. We found that the abundances of anthocyanin synthesis-related enzymes such as chalcone synthase, chalcone isomerase, dihydroflavonol 4-reductase and anthocyanin synthetase, as well as anthocyanin accumulation-related UDP-glucosyl transferase and ATP-binding cassette (ABC) transporters in the purple leaves were all significantly higher than those in the green leaves. The abundances of the transcription factors bHLH and HY5, regulating anthocyanin biosynthesis at transcriptional level were also obviously higher in purple leaves than those in green leaves. In addition, bifunctional 3-dehydroquinate dehydratase and chorismate mutase in purple leaves were distinctly higher in abundance compared to green leaves, which provided sufficient phenylalanine substrate for anthocyanin synthesis. Furthermore, lignin synthesis was found to be reduced due to the lower abundances of cinnamoyl-CoA reductase 1, peroxidase 15 and laccase-6, which resulted in increase of intermediates flow into anthocyanin synthesis pathway. The physiological data were consistent with proteomic results. These four aspects of biosynthetic regulation contribute to anthocyanin accumulation in purple leaves of Zijuan tea.
View Full-Text
►

▼

Figures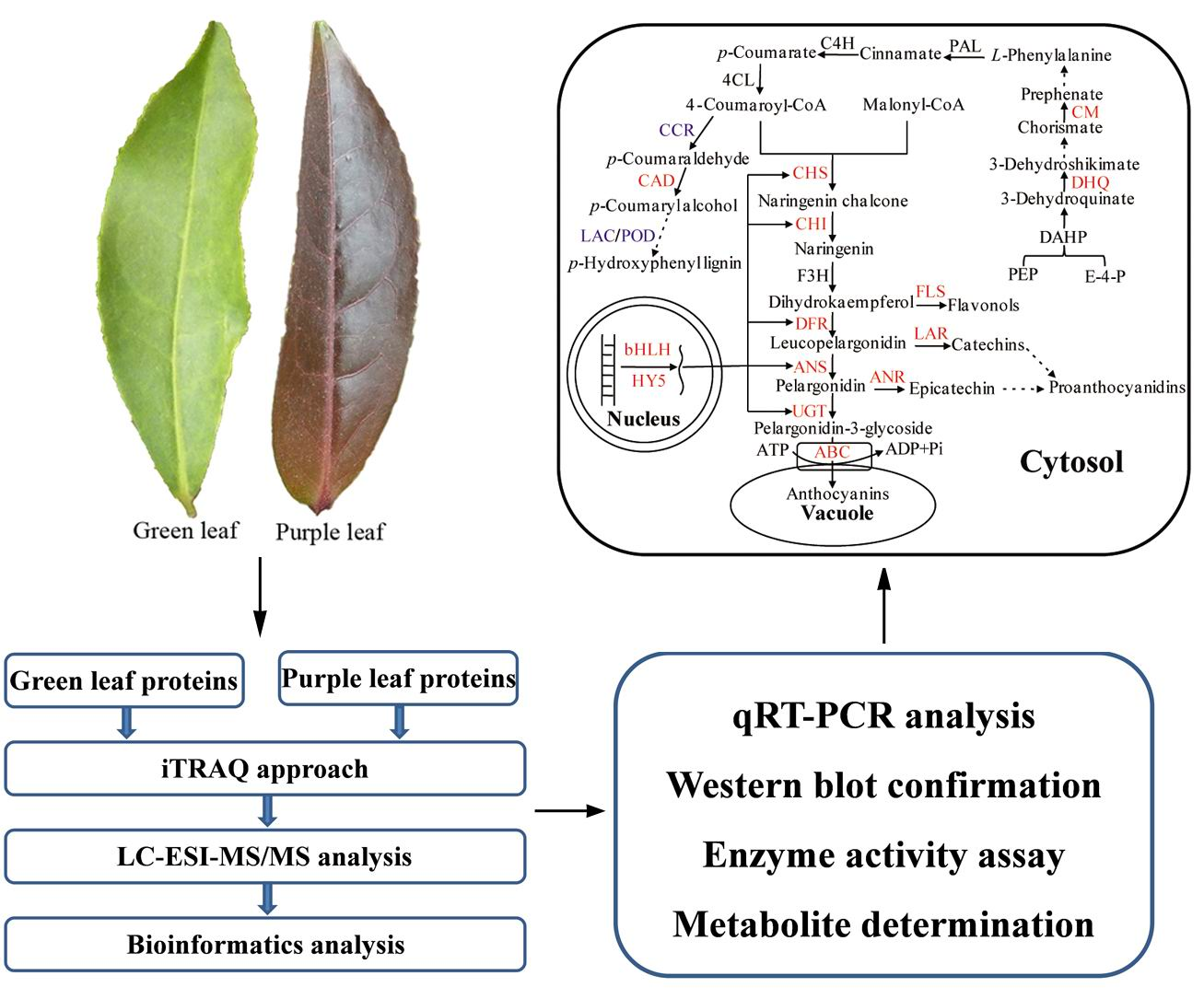 This is an open access article distributed under the
Creative Commons Attribution License
which permits unrestricted use, distribution, and reproduction in any medium, provided the original work is properly cited. (CC BY 4.0).
Share & Cite This Article
MDPI and ACS Style
Wang, L.; Pan, D.; Liang, M.; Abubakar, Y.S.; Li, J.; Lin, J.; Chen, S.; Chen, W. Regulation of Anthocyanin Biosynthesis in Purple Leaves of Zijuan Tea (Camellia sinensis var. kitamura). Int. J. Mol. Sci. 2017, 18, 833.
Note that from the first issue of 2016, MDPI journals use article numbers instead of page numbers. See further details here.
Related Articles
Comments
[Return to top]