SAK-HV Decreases the Self-Ubiquitination of MEKK1 to Promote Macrophage Proliferation via MAPK/ERK and JNK Pathways
The Laboratory of Genomic Engineering, Beijing Institute of Basic Medical Sciences, Beijing 100005, China
*
Author to whom correspondence should be addressed.
Academic Editor: Nobuhiro Nakamura
Received: 9 February 2017 / Revised: 6 April 2017 / Accepted: 11 April 2017 / Published: 19 April 2017
Abstract
SAK-HV is an anti-atherosclerosis recombinant fusion protein developed by our lab. Our study determined that SAK-HV promoted macrophage proliferation, of which the mechanism was explored by both RAW264.7 cells and primary macrophages. Mass spectrometric analysis and co-immunoprecipitation were combined to screen the SAK-HV-interacting proteins in RAW264.7 cells. Confocal microscopy was adopted to detect the localization of SAK-HV in cells. The results indicated that SAK-HV triggered macrophage proliferation via the mitogen-activated protein kinase (MAPK)/extracellular signal-regulated kinases (ERK) and c-Jun N-terminal kinases (JNK) pathways by its SAK-mutant functional domain. We screened out Uba1 as the SAK-HV-interacting protein in the RAW264.7 cells and discovered their co-localization in the cytoplasm and nucleus. Inhibiting Uba1 significantly decreased the SAK-HV-induced macrophage proliferation. Thus, we postulated an attractive model of ubiquitination, in which the interactions between Uba1 and specific E2 enzymes are blocked by its interaction with SAK-HV. Based on this model, we detected the decreased self-ubiquitination of MEKK1 after SAK-HV treatment and concluded that SAK-HV inhibits the self-ubiquitination of MEKK1 via its SAK-mutant functional domain to activate MAPK/ERK and JNK pathways, promoting macrophage proliferation. This conclusion highly supported our hypothesized model of ubiquitination at the level of Uba1, which may represent a novel paradigm to promote macrophage proliferation by using the E1 enzyme (Uba1) as a switch.
View Full-Text
►

▼

Figures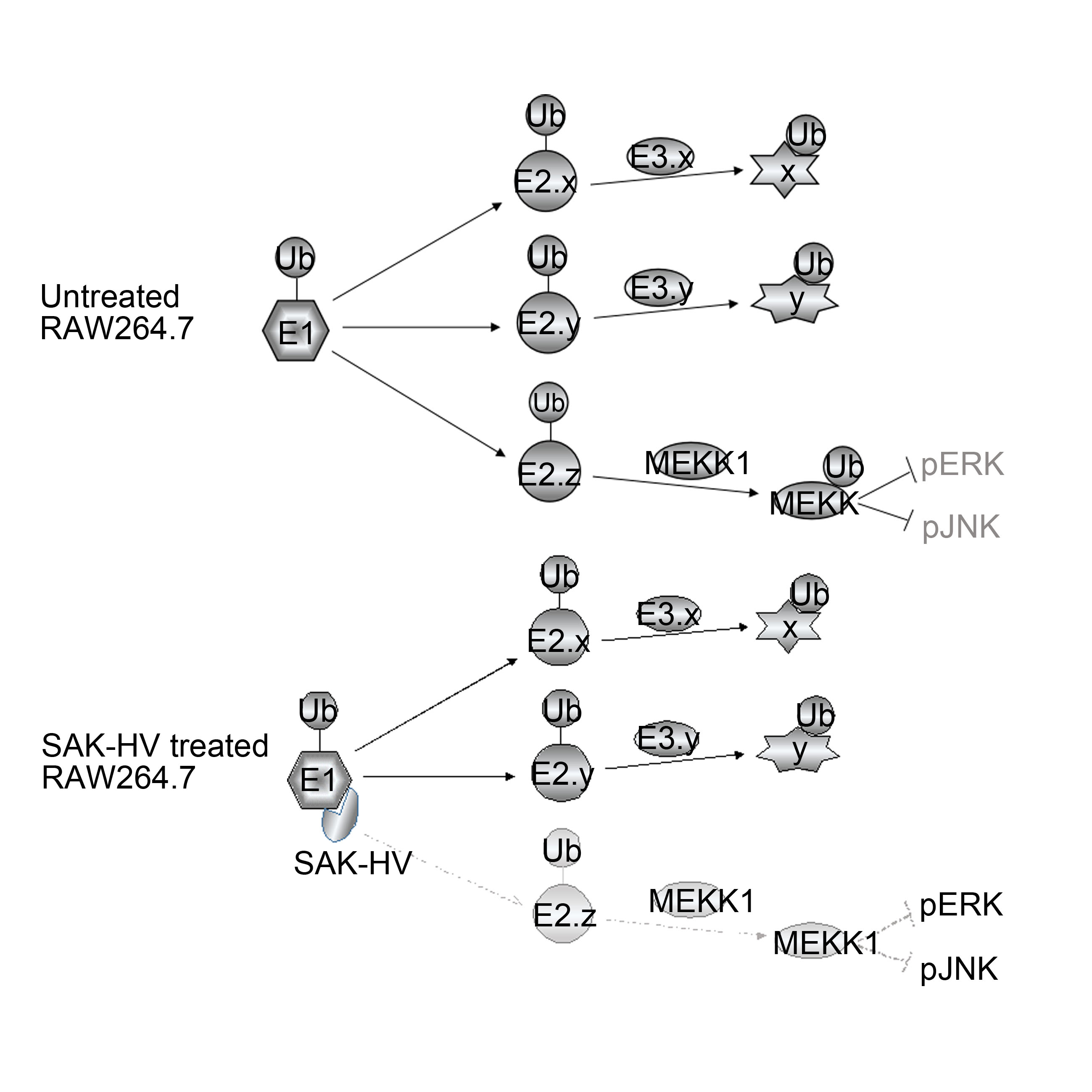 This is an open access article distributed under the
Creative Commons Attribution License
which permits unrestricted use, distribution, and reproduction in any medium, provided the original work is properly cited. (CC BY 4.0).
Share & Cite This Article
MDPI and ACS Style
Zhang, C.; Chen, Y.; Gan, X.; Huang, Z.; Zou, M.; Fu, W.; Xing, W.; Xu, D. SAK-HV Decreases the Self-Ubiquitination of MEKK1 to Promote Macrophage Proliferation via MAPK/ERK and JNK Pathways. Int. J. Mol. Sci. 2017, 18, 835.
Note that from the first issue of 2016, MDPI journals use article numbers instead of page numbers. See further details here.
Related Articles
Comments
[Return to top]