Antioxidant and Anti-Senescence Effect of Metformin on Mouse Olfactory Ensheathing Cells (mOECs) May Be Associated with Increased Brain-Derived Neurotrophic Factor Levels—An Ex Vivo Study
1
Department of Experimental Biology and Electron Microscope Facility, The Faculty of Biology and Animal Science, Wroclaw University of Environmental and Life Sciences, Norwida 25, 50-375 Wroclaw, Poland
2
Wroclaw Research Centre EIT+, Stablowicka 147, 54-066 Wroclaw, Poland
3
PferdePraxis Dr. Med. Vet. Daniel Weiss, Postmatte 14, CH-8807 Freienbach, Switzerland
*
Author to whom correspondence should be addressed.
Academic Editor: Guiting Lin
Received: 15 March 2017 / Revised: 11 April 2017 / Accepted: 13 April 2017 / Published: 20 April 2017
Abstract
Metformin, the popular anti-diabetic drug was shown to exert multiple biological effects. The most recent metformin gained attention as an agent that mobilizes endogenous progenitor cells and enhances regenerative potential of organisms, for example by promoting neurogenesis. In the present study, we examined the role of metformin on mouse olfactory ensheathing cells (mOECs) derived from animals receiving metformin for eight weeks at a concentration equal to 2.8 mg/day. The mOECs expanded ex vivo were characterized in terms of their cellular phenotype, morphology, proliferative activity, viability and accumulation of oxidative stress factors. Moreover, we determined the mRNA and protein levels of brain-derived neurotrophic factor (BDNF), distinguishing the secretion of BDNF by mOECs in cultures and circulating serum levels of BDNF. The mOECs used in the experiment were glial fibrillary acidic protein (GFAP) and p75 neurotrophin receptor (p75
NTR
) positive and exhibited both astrocyte-like and non-myelin Schwann cell-like morphologies. Our results revealed that the proliferation of OECs derived from mice treated with metformin was lowered, when compared to control group. Simultaneously, we noted increased cell viability, reduced expression of markers associated with cellular senescence and a decreased amount of reactive oxygen species. We observed increased mRNA expression of BDNF and its down-stream genes. Obtained results indicate that metformin may exert antioxidant, anti-apoptotic and senolytic action on OECs expanded ex vivo.
View Full-Text
►

▼

Figures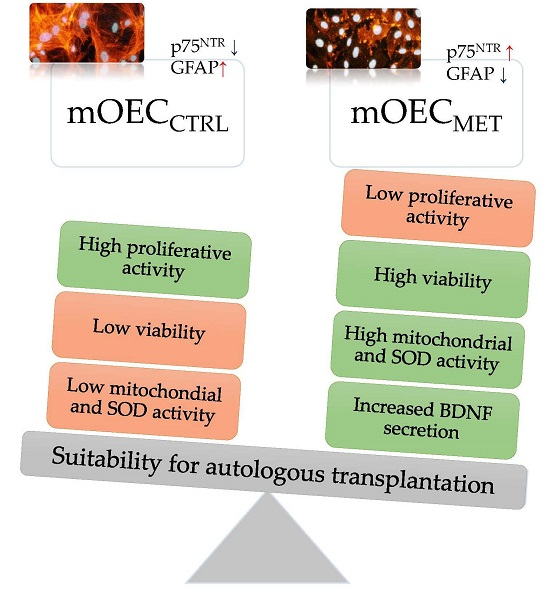 This is an open access article distributed under the
Creative Commons Attribution License
which permits unrestricted use, distribution, and reproduction in any medium, provided the original work is properly cited. (CC BY 4.0).
Share & Cite This Article
MDPI and ACS Style
Śmieszek, A.; Stręk, Z.; Kornicka, K.; Grzesiak, J.; Weiss, C.; Marycz, K. Antioxidant and Anti-Senescence Effect of Metformin on Mouse Olfactory Ensheathing Cells (mOECs) May Be Associated with Increased Brain-Derived Neurotrophic Factor Levels—An Ex Vivo Study. Int. J. Mol. Sci. 2017, 18, 872.
Note that from the first issue of 2016, MDPI journals use article numbers instead of page numbers. See further details here.
Related Articles
Comments
[Return to top]