π-Bridge Effect on Symmetric Carbazole-Based Small Molecules for Realizing Ultraviolet Fluorescent Emission
1
Key Laboratory of Optoelectronic Devices and Systems of Ministry of Education and Guangdong Province, College of Optoelectronic Engineering, Shenzhen University, Shenzhen 518060, China
2
School of Materials Science and Engineering, Jiangsu Engineering Laboratory of Light-Electricity-Heat Energy-Converting Materials and Applications, Jiangsu Key Laboratories of Environment-Friendly Polymers, National Experimental Demonstration Center for Materials Science and Engineering, Changzhou University, Changzhou 213164, China
*
Authors to whom correspondence should be addressed.
Received: 14 March 2018 / Revised: 11 April 2018 / Accepted: 14 April 2018 / Published: 17 April 2018
Abstract
A series of symmetric carbazole derivatives (CzP-H, CzP-CN, CzP-Me, and CzP-OMe), which comprise electron-donating and electron-drawing groups appending on a phenyl core, was synthesized and characterized in detail. These compounds exhibit excellent thermal stabilities, with thermal decomposition temperatures exceeding 400 °C. From the fluorescent spectra in film, CzP-H, CzP-Me, and CzP-OMe showed UV to blue-violet emission, with peaks at 396 nm, 402 nm, and 392 nm, respectively. The
E
00
energies of CzP-H, CzP-CN, CzP-Me, and CzP-OMe were 3.39 eV, 2.83 eV, 3.50 eV, and 3.35 eV, respectively. From the electrochemical measurements, the highest occupied molecular orbital (HOMOs) energy levels were −5.30 eV, −5.64 eV, −5.46 eV, and −5.24 eV for CzP-H, CzP-CN, CzP-Me, and CzP-OMe, respectively. Through calculations from HOMO energy levels and
E
00
energies, the lowest unoccupied molecular orbital (LUMOs) energy levels of CzP-H, CzP-CN, CzP-Me, and CzP-OMe were −1.91 eV, −2.81 eV, −1.96 eV, and −1.89 eV, respectively. Therefore, the introduction of different substitutes in phenyl cores would distinctly affect the photophysical properties. These results indicate that the prepared carbazole derivatives could be potential candidates for realizing ultraviolet or blue-violet emission.
View Full-Text
►

▼

Figures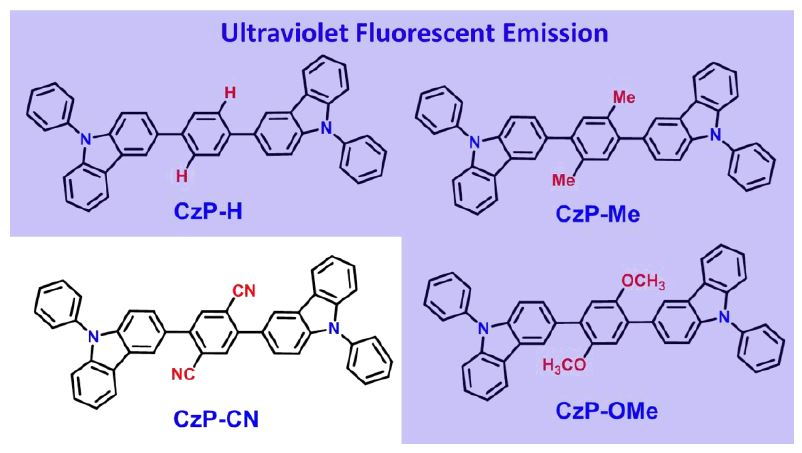 This is an open access article distributed under the
Creative Commons Attribution License
which permits unrestricted use, distribution, and reproduction in any medium, provided the original work is properly cited. (CC BY 4.0).
Share & Cite This Article
MDPI and ACS Style
Liu, S.; Lin, P.; Niu, F.; Zeng, P.; Zhang, B. π-Bridge Effect on Symmetric Carbazole-Based Small Molecules for Realizing Ultraviolet Fluorescent Emission. Materials 2018, 11, 617.
Note that from the first issue of 2016, MDPI journals use article numbers instead of page numbers. See further details here.
Related Articles
Comments
[Return to top]