An UPLC-ESI-MS/MS Assay Using 6-Aminoquinolyl-N-Hydroxysuccinimidyl Carbamate Derivatization for Targeted Amino Acid Analysis: Application to Screening of Arabidopsis thaliana Mutants
1
Department of Biological Sciences, College of Arts and Sciences, University of North Texas, 1155 Union Circle No. 305220, Denton, TX 76203, USA
2
Waters Corporation, 100 Cummings Center, Suite 407N, Beverly, MA 01915, USA
*
Author to whom correspondence should be addressed.
Received: 2 May 2012 / Revised: 29 June 2012 / Accepted: 4 July 2012 / Published: 6 July 2012
Abstract
In spite of the large arsenal of methodologies developed for amino acid assessment in complex matrices, their implementation in metabolomics studies involving wide-ranging mutant screening is hampered by their lack of high-throughput, sensitivity, reproducibility, and/or wide dynamic range. In response to the challenge of developing amino acid analysis methods that satisfy the criteria required for metabolomic studies, improved reverse-phase high-performance liquid chromatography-mass spectrometry (RPHPLC-MS) methods have been recently reported for large-scale screening of metabolic phenotypes. However, these methods focus on the direct analysis of underivatized amino acids and, therefore, problems associated with insufficient retention and resolution are observed due to the hydrophilic nature of amino acids. It is well known that derivatization methods render amino acids more amenable for reverse phase chromatographic analysis by introducing highly-hydrophobic tags in their carboxylic acid or amino functional group. Therefore, an analytical platform that combines the 6-aminoquinolyl-
N
-hydroxysuccinimidyl carbamate (AQC) pre-column derivatization method with ultra performance liquid chromatography-electrospray ionization-tandem mass spectrometry (UPLC-ESI-MS/MS) is presented in this article. For numerous reasons typical amino acid derivatization methods would be inadequate for large scale metabolic projects. However, AQC derivatization is a simple, rapid and reproducible way of obtaining stable amino acid adducts amenable for UPLC-ESI-MS/MS and the applicability of the method for high-throughput metabolomic analysis in
Arabidopsis thaliana
is demonstrated in this study. Overall, the major advantages offered by this amino acid analysis method include high-throughput, enhanced sensitivity and selectivity; characteristics that showcase its utility for the rapid screening of the preselected plant metabolites without compromising the quality of the metabolic data. The presented method enabled thirty-eight metabolites (proteinogenic amino acids and related compounds) to be analyzed within 10 min with detection limits down to 1.02 × 10
−11
M (
i.e.
, atomole level on column), which represents an improved sensitivity of 1 to 5 orders of magnitude compared to existing methods. Our UPLC-ESI-MS/MS method is one of the seven analytical platforms used by the Arabidopsis Metabolomics Consortium. The amino acid dataset obtained by analysis of Arabidopsis T-DNA mutant stocks with our platform is captured and open to the public in the web portal PlantMetabolomics.org. The analytical platform herein described could find important applications in other studies where the rapid, high-throughput and sensitive assessment of low abundance amino acids in complex biosamples is necessary.
View Full-Text
►

▼

Figures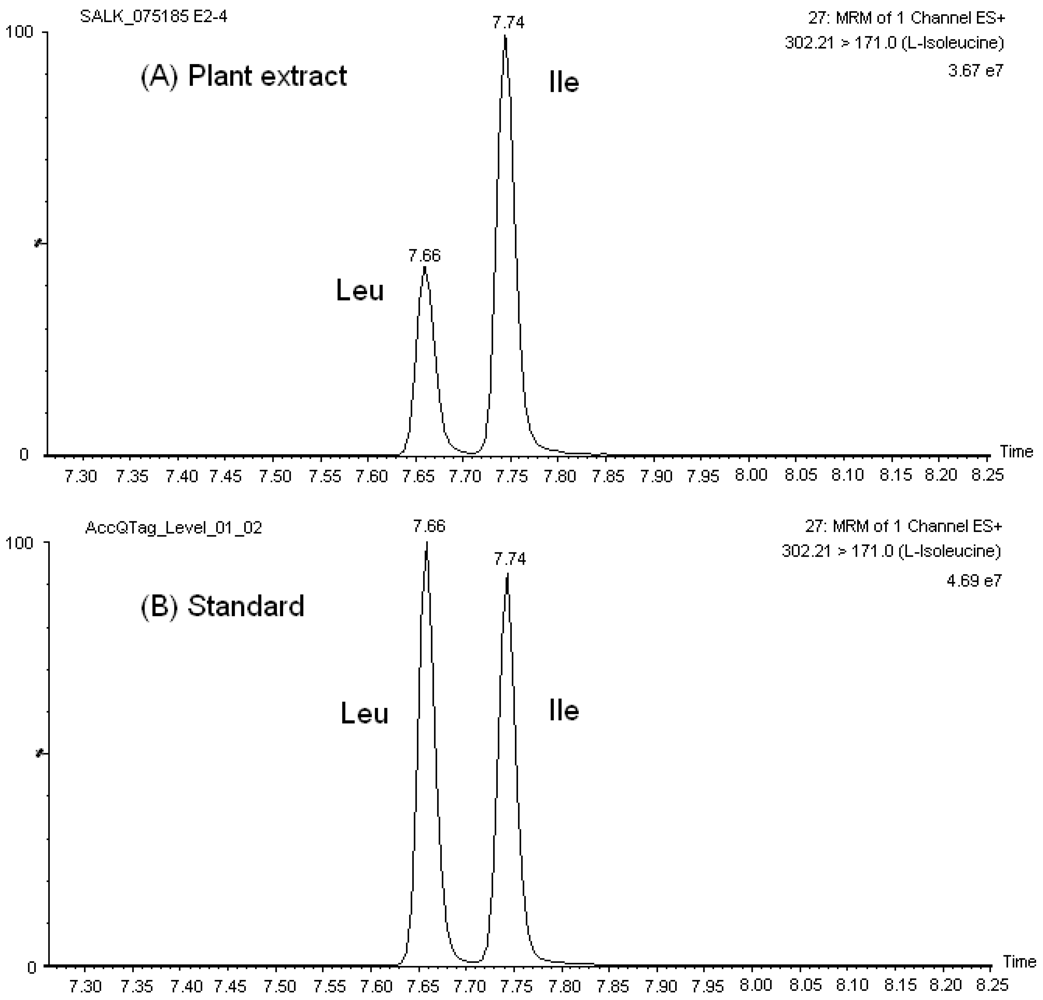 Figure 1
Share & Cite This Article
MDPI and ACS Style
Salazar, C.; Armenta, J.M.; Shulaev, V. An UPLC-ESI-MS/MS Assay Using 6-Aminoquinolyl-N-Hydroxysuccinimidyl Carbamate Derivatization for Targeted Amino Acid Analysis: Application to Screening of Arabidopsis thaliana Mutants. Metabolites 2012, 2, 398-428.
Related Articles
Comments
[Return to top]