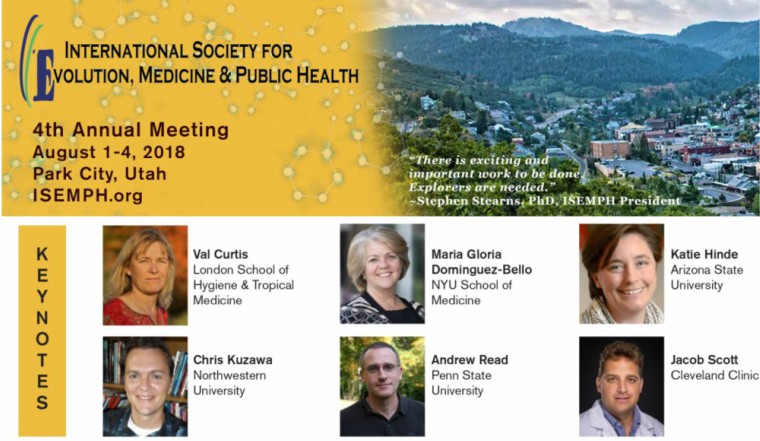 1–4 August 2018
ISEMPH 2018: International Society for Evolution, Medicine and Public Health 2018
Park City, Utah
The International Society for Evolution, Medicine, & Public Health is convening our fourth annual conference in spectacular Park City, Utah this summer. Health professionals, researchers, teachers and students from many scientific disciplines from around the world will gather to share their ideas, approaches and research findings at the intersection of evolutionary biology, medicine, and public health.
The main goals of this conference are to:
Catalyze new discoveries in the rapidly growing field of evolutionary medicine - including evolutionary dynamics of cancer, the microbiome, antibiotic resistance, infectious disease, health behavior, and much more!
Create new connections and increase the awareness of this exciting, important, and high impact area of scientific inquiry.
Park City, Utah is a turn-of-the-century mining town thriving in the present. Visitors will find retail shopping, restaurants, museums, and galleries in the historic downtown area. Outdoor adventurists will uncover hot springs, forests, and picturesque hiking and biking trails to enjoy with family and new friends.
Important dates:
January 17: Abstract Submission Opens
February 1: Meeting Registration Opens
March 1: Abstract Submission Closes
March 31: Abstract Decisions Announced
April 30: Early Registration Deadline
July 20: Regular Registration Deadline
Submit abstracts: https://easychair.org/cfp/ISEMPH2018
Register here! ISEMPH.org
Questions? Janice Mancuso, Conference Director; janice.mancuso@gmail.com or 505-506-4496
Connect with us on Twitter @ISEMPH and tag us with #ISEMPH2018

3–6 September 2018
FoodMicro 2018
Berlin, Germany
Functional and novel foods as well as previously unknown problems concerning spoilage and emerging pathogens necessitate the application of novel methods in food microbiology. To merge these different research areas we have chosen "Biodiversity of Foodborne Microbes" as the common theme of our conference. Participants will be offered an excellent programme, demonstrating scientific diversity and subject depth.
Main Topics:
Exploring biodiversity in microbial ecosystems along the food chain
Ecology and interactions in food-associated microbial communities
Impact of interventions during food production on microbial biodiversity
Microbiological spotlights

24–26 October 2018
2018 International Conference on Biotechnology and Bioengineering
Budapest, Hungary
Welcome to the 2018 International Conference on Biotechnology and Bioengineering (8th ICBB) which will be held in Budapest, Hungary during October 24-26, 2018. The conference has been designed to provide an innovative and comprehensive overview of biotechnology and bioengineering, and a focus will be given to major research advances, including: New Approaches & Methods; Cell and Immunology; Genomics & Molecular Biology; Biomaterials, Biopolymers & Bioenergy; Biomedicine, Pharmacology & Toxicology; Biomedical Engineering & Techniques; and other related aspects. More information about the conference can be found at http://icbb.apaset.org/