Cytotoxicity of 11-epi-Sinulariolide Acetate Isolated from Cultured Soft Corals on HA22T Cells through the Endoplasmic Reticulum Stress Pathway and Mitochondrial Dysfunction
1
Graduate Institute of Veterinary Medicine, National Pingtung University of Science and Technology, Pingtung 91201, Taiwan
2
Department of Biomedical Sciences and Molecular Medicine Research Center, College of Medicine, Chang Gung University, Taoyuan 33302, Taiwan
3
Division of Pediatric Infectious Disease, Department of Pediatrics, Chang Gung Memorial Hospital, Linkuo 33305, Taiwan
4
Department of Food Science and Nutrition, Meiho University, Pingtung 91202, Taiwan
5
Department of Biotechnology, Kaohsiung Medical University, Kaohsiung 80708, Taiwan
6
Department of Beauty Science, Meiho University, Pingtung 91202, Taiwan
†
These authors contributed equally to this work.
*
Authors to whom correspondence should be addressed.
Academic Editor: Masato Matsuoka
Received: 2 May 2016 / Revised: 29 August 2016 / Accepted: 12 October 2016 / Published: 27 October 2016
Abstract
Natural compounds from soft corals have been increasingly used for their antitumor therapeutic properties. This study examined 11-
epi
-sinulariolide acetate (11-
epi
-SA), an active compound isolated from the cultured soft coral
Sinularia flexibilis
, to determine its potential antitumor effect on four hepatocellular carcinoma cell lines. Cell viability was investigated using 3-(4,5-dimethylthiazol-2-yl)-2,5-diphenyltetrazolium bromide assay, and the results demonstrated that 11-
epi
-SA treatment showed more cytotoxic effect toward HA22T cells. Protein profiling of the 11-
epi
-SA-treated HA22T cells revealed substantial protein alterations associated with stress response and protein synthesis and folding, suggesting that the mitochondria and endoplasmic reticulum (ER) play roles in 11-
epi
-SA-initiated apoptosis. Moreover, 11-
epi
-SA activated caspase-dependent apoptotic cell death, suggesting that mitochondria-related apoptosis genes were involved in programmed cell death. The unfolded protein response signaling pathway-related proteins were also activated on 11-
epi
-SA treatment, and these changes were accompanied by the upregulated expression of
growth arrest and DNA damage-inducible protein
(
GADD153
) and
CCAAT/enhancer binding protein
(
C/EBP
)
homologous protein
(
CHOP
), the genes encoding transcription factors associated with growth arrest and apoptosis under prolonged ER stress. Two inhibitors, namely salubrinal (Sal) and SP600125, partially abrogated 11-
epi
-SA-related cell death, implying that the protein kinase R (PKR)-like endoplasmic reticulum kinase (PERK)–activating transcription factor (ATF) 6–CHOP or the inositol-requiring enzyme 1 alpha (IRE1α)–c-Jun N-terminal kinase (JNK)–cJun signal pathway was activated after 11-
epi
-SA treatment. In general, these results suggest that 11-
epi
-SA exerts cytotoxic effects on HA22T cells through mitochondrial dysfunction and ER stress cell death pathways.
View Full-Text
►

▼

Figures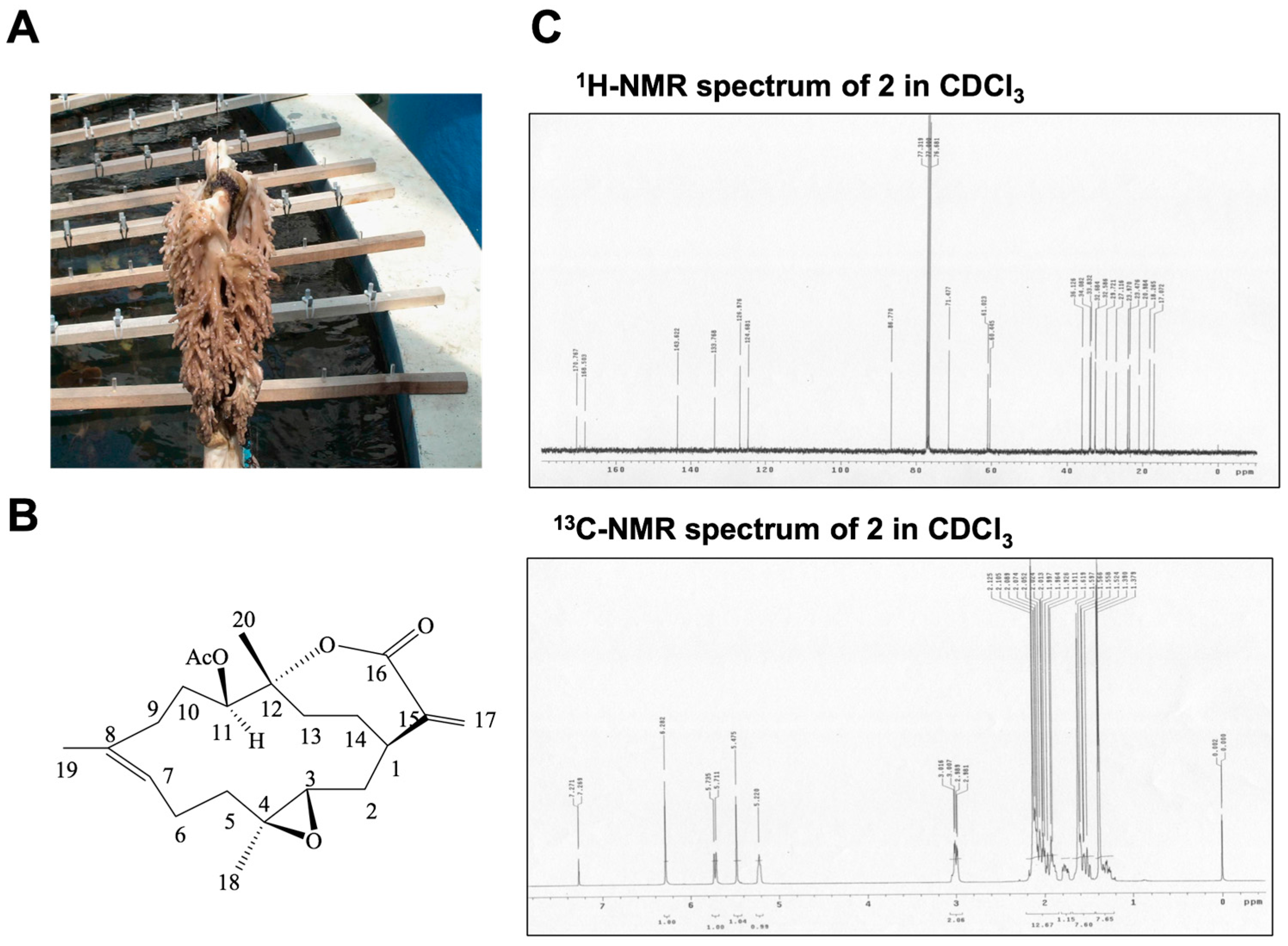 Figure 1
This is an open access article distributed under the
Creative Commons Attribution License
which permits unrestricted use, distribution, and reproduction in any medium, provided the original work is properly cited. (CC BY 4.0).
Share & Cite This Article
MDPI and ACS Style
Lin, J.-J.; Wang, R.Y.L.; Chen, J.-C.; Chiu, C.-C.; Liao, M.-H.; Wu, Y.-J. Cytotoxicity of 11-epi-Sinulariolide Acetate Isolated from Cultured Soft Corals on HA22T Cells through the Endoplasmic Reticulum Stress Pathway and Mitochondrial Dysfunction. Int. J. Mol. Sci. 2016, 17, 1787.
Note that from the first issue of 2016, MDPI journals use article numbers instead of page numbers. See further details here.
Related Articles
Comments
[Return to top]