Open Access
Article
SOM and Biomass C Stocks in Degraded and Undisturbed Andean and Coastal Nothofagus Forests of Southwestern South America
Received: 31 August 2016 / Revised: 26 October 2016 / Accepted: 2 December 2016 / Published: 20 December 2016
PDF Full-text (2276 KB) | HTML Full-text | XML Full-text
Abstract
Grazing and over-exploitation can severely degrade soil in native forests. Considering that productivity in ecosystems is related to soil organic matter (SOM) content and quality, the objectives of this study were to: (1) determine the influence of degraded (DEF), partly-degraded (PDF), and undisturbed
[...] Read more.
Grazing and over-exploitation can severely degrade soil in native forests. Considering that productivity in ecosystems is related to soil organic matter (SOM) content and quality, the objectives of this study were to: (1) determine the influence of degraded (DEF), partly-degraded (PDF), and undisturbed (UNF)
Nothofagus
forests on the stocks of carbon (C) in tree biomass and SOM; (2) evaluate fractions of SOM as indicators of sustainable management; and (3) use the
Century
model to determine the potential gains of soil organic C (SOC). The forests are located in the Andes and Coastal mountains of southern Chile. The SOM was fractionated to separate the light fraction (LF), macroaggregates (>212 µm), mesoaggregates (212–53 µm), and microaggregates (<53 µm). In two measurement periods, the SOC stocks at 0–20 cm and 20–40 cm depths in macroaggregates were on average 100% higher in the Andean UNF, and SOC was over twice as much at 20–40 cm depth in Andean DEF.
Century
simulations showed that improved silvopastoral management would gradually increase total SOC in degraded soils of both sites, especially the Ultisol with a 15% increase between 2016 and 2216 (vs. 7% in the Andisol). Greater SOC in macroaggregates (
p
< 0.05) of UNF indicate a condition of higher sustainability and better management over the years.
Full article
►

▼

Figures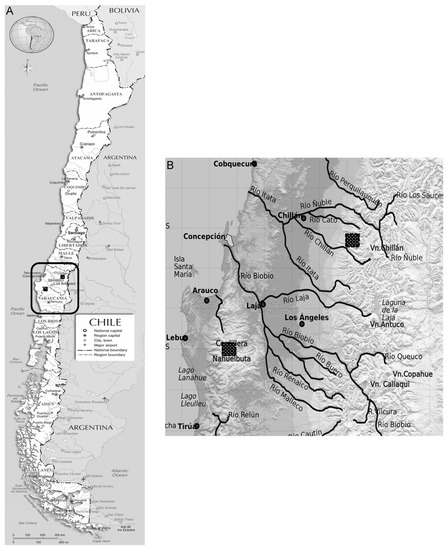 Figure 1