Open Access
Article
Stand Dynamics and Biomass Increment in a Lucidophyllous Forest over a 28-Year Period in Central Japan
Received: 18 August 2017 / Revised: 12 October 2017 / Accepted: 15 October 2017 / Published: 17 October 2017
PDF Full-text (2660 KB) | HTML Full-text | XML Full-text
Abstract
Secondary lucidophyllous forest is one of the dominant forests in human-dominated subtropical/warm-temperate regions in East Asia. There were few direct monitoring techniques to elucidate the following hypotheses: (a) self-thinning may govern the stand development process and (b) wood production decline can be observed
[...] Read more.
Secondary lucidophyllous forest is one of the dominant forests in human-dominated subtropical/warm-temperate regions in East Asia. There were few direct monitoring techniques to elucidate the following hypotheses: (a) self-thinning may govern the stand development process and (b) wood production decline can be observed during secondary succession in a lucidophyllous forest. We conducted a long-term study at a permanent plot in central Japan, since 1989. The forest consists mainly of
Castanopsis cuspidata
in a canopy layer,
Cleyera japonica
, and
Eurya japonica
in a subtree layer. During the 28-year period, the basal area of the stand significantly increased due to the growth of
C. cuspidata
, from 29.18 ± 1.84 (87.8% of total) to 38.71 ± 2.22 m
2
ha
−1
(91.9%), while the stem density of
C. cuspidata
significantly decreased from 666 ± 13 to 404 ± 10 stems ha
−1
in proportion to accumulating biomass (117.8 to 166.6 ton ha
−1
). The annual woody net primary production ranged from 2.40 ± 0.13 to 3.93 ± 0.33 ton ha
−1
year
−1
as a nearly 70-year-old forest. There was no age-related decline of woody net primary production (NPP) was found during secondary succession, and the growth of individual tree still increased when the self-thinning process governed the stand.
Full article
►

▼

Figures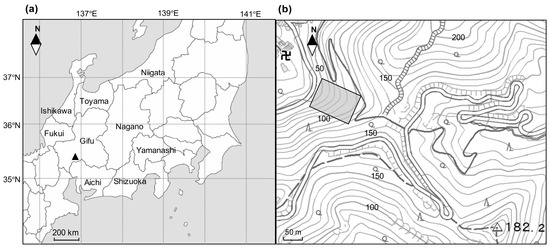 Figure 1