Open Access
Communication
Cloning and Functional Characterization of a Lycopene β-Cyclase from Macrophytic Red Alga Bangia fuscopurpurea
Received: 10 November 2016 / Revised: 16 March 2017 / Accepted: 29 March 2017 / Published: 11 April 2017
PDF Full-text (2372 KB) | HTML Full-text | XML Full-text
Abstract
Lycopene cyclases cyclize the open ends of acyclic lycopene (ψ,ψ-carotene) into β- or ε-ionone rings in the crucial bifurcation step of carotenoid biosynthesis. Among all carotenoid constituents, β-carotene (β,β-carotene) is found in all photosynthetic organisms, except for purple bacteria and heliobacteria, suggesting a
[...] Read more.
Lycopene cyclases cyclize the open ends of acyclic lycopene (ψ,ψ-carotene) into β- or ε-ionone rings in the crucial bifurcation step of carotenoid biosynthesis. Among all carotenoid constituents, β-carotene (β,β-carotene) is found in all photosynthetic organisms, except for purple bacteria and heliobacteria, suggesting a ubiquitous distribution of lycopene β-cyclase activity in these organisms. In this work, we isolated a gene (
BfLCYB
) encoding a lycopene β-cyclase from
Bangia fuscopurpurea
, a red alga that is considered to be one of the primitive multicellular eukaryotic photosynthetic organisms and accumulates carotenoid constituents with both β- and ε-rings, including β-carotene, zeaxanthin, α-carotene (β,ε-carotene) and lutein. Functional complementation in
Escherichia coli
demonstrated that BfLCYB is able to catalyze cyclization of lycopene into monocyclic γ-carotene (β,ψ-carotene) and bicyclic β-carotene, and cyclization of the open end of monocyclic δ-carotene (ε,ψ-carotene) to produce α-carotene. No ε-cyclization activity was identified for BfLCYB. Sequence comparison showed that BfLCYB shares conserved domains with other functionally characterized lycopene cyclases from different organisms and belongs to a group of ancient lycopene cyclases. Although
B. fuscopurpurea
also synthesizes α-carotene and lutein, its enzyme-catalyzing ε-cyclization is still unknown.
Full article
►

▼

Figures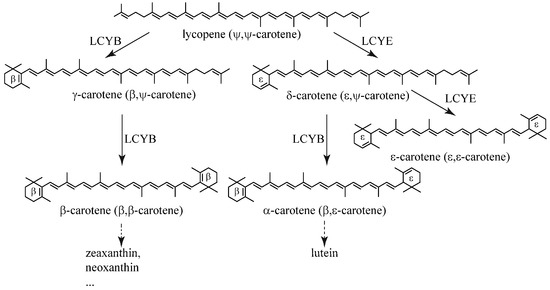 Figure 1