Open Access
Article
A Rapid Method for the Determination of Fucoxanthin in Diatom
Received: 4 December 2017 / Revised: 4 January 2018 / Accepted: 6 January 2018 / Published: 22 January 2018
PDF Full-text (3661 KB) | HTML Full-text | XML Full-text
Abstract
Fucoxanthin is a natural pigment found in microalgae, especially diatoms and Chrysophyta. Recently, it has been shown to have anti-inflammatory, anti-tumor, and anti-obesityactivity in humans. Phaeodactylum tricornutum is a diatom with high economic potential due to its high content of fucoxanthin and
[...] Read more.
Fucoxanthin is a natural pigment found in microalgae, especially diatoms and
Chrysophyta
. Recently, it has been shown to have anti-inflammatory, anti-tumor, and anti-obesityactivity in humans.
Phaeodactylum tricornutum
is a diatom with high economic potential due to its high content of fucoxanthin and eicosapentaenoic acid. In order to improve fucoxanthin production, physical and chemical mutagenesis could be applied to generate mutants. An accurate and rapid method to assess the fucoxanthin content is a prerequisite for a high-throughput screen of mutants. In this work, the content of fucoxanthin in
P. tricornutum
was determined using spectrophotometry instead of high performance liquid chromatography (HPLC). This spectrophotometric method is easier and faster than liquid chromatography and the standard error was less than 5% when compared to the HPLC results. Also, this method can be applied to other diatoms, with standard errors of 3–14.6%. It provides a high throughput screening method for microalgae strains producing fucoxanthin.
Full article
►

▼

Figures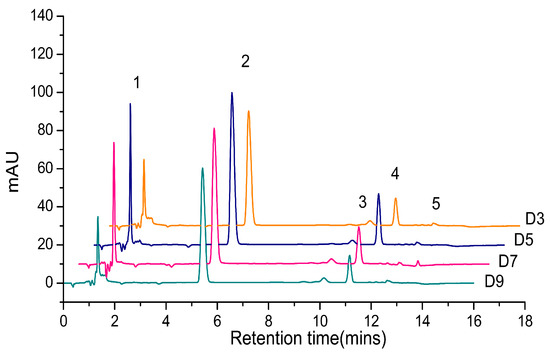 Figure 1