Open Access
Article
Characterization and Performance of Soy-Based Adhesives Cured with Epoxy Resin
Received: 27 August 2017 / Revised: 2 October 2017 / Accepted: 12 October 2017 / Published: 16 October 2017
PDF Full-text (981 KB) | HTML Full-text | XML Full-text
Abstract
Soy-based adhesives have attracted much attention recently because they are environmentally safe, low cost, and readily available. To improve the gluability and water resistance of soy-based adhesives, we prepared an enzyme-treated soy-based adhesive modified with an epoxy resin. We investigated the wet shear
[...] Read more.
Soy-based adhesives have attracted much attention recently because they are environmentally safe, low cost, and readily available. To improve the gluability and water resistance of soy-based adhesives, we prepared an enzyme-treated soy-based adhesive modified with an epoxy resin. We investigated the wet shear strength of plywood bonded with the modified adhesive using the boiling-water test. Fourier transformed infrared spectroscopy (FTIR) and
1
H nuclear magnetic resonance analysis were used to characterize the reaction between epoxy groups and –NH
2
groups in the modified soy-based adhesives. FTIR analysis confirmed the cross-linking structure in the cured adhesives. Viscosity and the solid content of soy-based adhesives gradually increased with the increasing amount of epoxy resin, but had little effect on its operability. Wet shear strength of plywood samples increased as the amount of epoxy resin was increased, whereas the inverse trend was observed regarding the water absorption of cured adhesives. Compared to an unmodified adhesive, the addition of 30% of epoxy resin increased the wet shear strength of plywood samples by 58.3% (0.95 MPa), meeting the requirement of the Chinese National Standard for exterior plywood. Differential scanning calorimetry and thermogravimetric analysis showed the improved thermostability of the cured adhesives after curing at 160 °C. These results suggest that epoxy resin could effectively improve the performance of enzyme-treated soy-based adhesives, which might provide a new option for the preparation of soy-based adhesives with high gluability and water resistance.
Full article
►

▼

Figures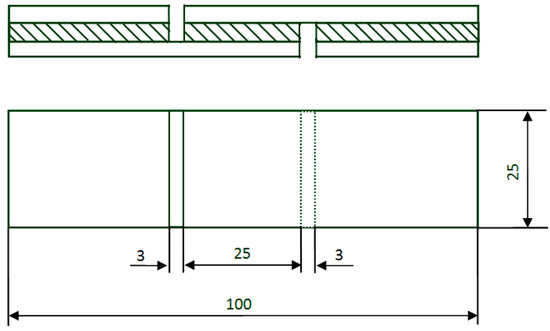 Figure 1