Open Access
Article
Influence of Catalytic Formulation and Operative Conditions on Coke Deposition over CeO2-SiO2 Based Catalysts for Ethanol Reforming
Received: 8 June 2017 / Revised: 2 July 2017 / Accepted: 14 July 2017 / Published: 19 July 2017
PDF Full-text (2937 KB) | HTML Full-text | XML Full-text
Abstract
In this work, a series of CeO2-SiO2 (30 wt % of ceria)-based catalysts was prepared by the wetness impregnation method and tested for ESR (ethanol steam reforming) at 450–500 °C, atmospheric pressure and a water/ethanol ratio increasing from 4 to
[...] Read more.
In this work, a series of CeO
2
-SiO
2
(30 wt % of ceria)-based catalysts was prepared by the wetness impregnation method and tested for ESR (ethanol steam reforming) at 450–500 °C, atmospheric pressure and a water/ethanol ratio increasing from 4 to 6 (the ethanol concentration being fixed to 10 vol %); after every test, coke gasification measurements were performed at the same water partial pressure, and the temperature of the test and the gasified carbon was measured from the areas under the CO and CO
2
profiles. Finally, oxidation measurements under a 5% O
2
/N
2
stream made it possible to calculate the total carbon deposited. In an attempt to improve the coke resistance of a Pt-Ni/CeO
2
-SiO
2
catalyst, the effect of support basification by alkali addition (K and Cs), as well as Pt substitution by Rh was investigated. The novel catalysts, especially those containing Rh, displayed a lowering in the carbon formation rate; however, a faster reduction of ethanol conversion with time-on-stream and lessened hydrogen selectivities were recorded. In addition, no significant gain in terms of coke gasification rates was observed. The most active catalyst (Pt-Ni/CeO
2
-SiO
2
) was also tested under different operative conditions, in order to study the effect of temperature and water/ethanol ratio on carbon formation and gasification. The increase in the water content resulted in an enhanced reactor-plugging time due to reduced carbonaceous deposits formation; however, no effect of steam concentration on the carbon gasification rate were recorded. On the other hand, the increase in temperature from 450–500 °C lowered the coke selectivity by almost one order of magnitude improving, at the same time, the contribution of the gasification reactions.
Full article
►

▼

Figures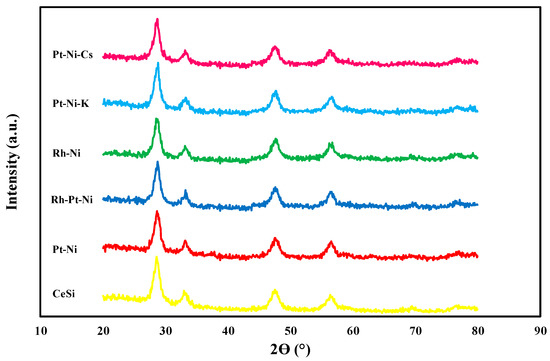 Figure 1